Alat Uji Stabilitas Produk Konstan HPP1060eco merupakan produk climate chambers terbaik dari Memmert untuk menguji stabilitas sebuah produk. Pengujian stabilitas merupakan tahap penting sebelum sebuah produk dapat dipasarkan, sebab dengan pengujian ini kita dapat mengetahui kualitas produk tersebut dan masa kadaluarsanya. Dengan alat uji stabilitas produk konstan kita dapat melakukan uji stabilitas dengan lebih cepat tanpa harus mengamati stabilitas produk dalam waktu lama.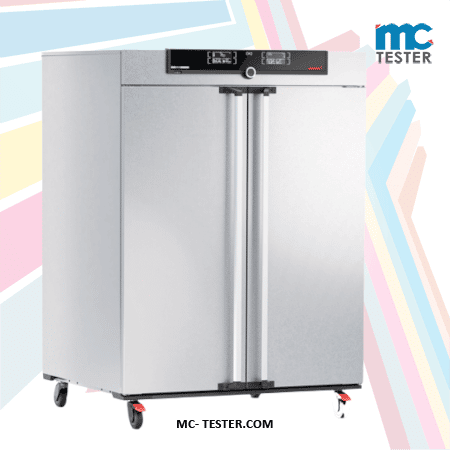 Setiap produk baru yang dibuat menggunakan metode, peralatan, pengemasan maupun bahan baku baru harus melalui tahap pengujian lebih dulu. Berbagai jenis industri pengolahan makanan dan minuman serta produksi kosmetik merupakan contoh pengguna alat ini sebab didalamnya mengharuskan adanya uji stabilitas. Selain industri tersebut, industri farmasi juga kerap menggunakan alat ini untuk menguji sediaannya baik yang berbentuk tablet, serbuk, granul hingga kapsul.
Fitur Alat Uji Stabilitas Produk Konstan HPP1060eco Memmert
Dalam melakukan pengujian, alat ini dapat merekayasa kondisi cahaya, suhu hingga kelembaban ruangnya agar sesuai dengan keadaan sesungguhnya namun dengan lebih dipercepat. Berbagai fitur canggih yang ada pada alat akan memudahkan Anda dalam pengoperasiannya seperti :
ControlCOCKPIT : tampilan ganda dengan layar 2 warna beresolusi tinggi yang ditunjang dengan kontroler mikropresessor PID digital yang multifungsi.
Pengaturan bahasa : pengaturan alat yang dapat diatur dalam bahasa German, English, Spanish, French, Polish, Czech, Hungarian.
Pengaturan parameter : suhu (Celcius atau Fahrenheit), kelembaban relatif, waktu program, zona waktu, musim panas / musim dingin.
Timer : penghitung waktu mundur yang dapat diatur mulai dari 1 menit hingga 99 hari operasi.
Antarmuka : dapat dihubungkan dengan Ethernet LAN dan USB untuk keperluan pemindahan data pengujian.
Alarm : fitur alarm dengan gambar dan suara.
Sistem diagnosis otomatis : diagnostik kesalahan integral dengan pengendalian suhu dan kelembaban.
Spesifikasi Alat Uji Stabilitas Produk Konstan HPP1060eco Memmert
Untuk lebih jelasnya, berikut kami informasikan mengenai spesfikasi teknis constant climate chambers HPP1060eco by Memmert :
Temperature / Suhu
Pengaturan range suhu
Tanpa cahaya, dengan kelembaban : +5 to +70°C
Pengaturan range suhu
Tanpa cahaya dan kelembaban : 0 to +70°C
Rentang suhu operasi
Tanpa cahaya, dengan kelembaban : +5 (setidaknya 20° dibawah suhu lingkungan) sampai +70°C
Rentang suhu operasi
Tanpa cahaya, tanpa kelembaban : 0 (setidaknya 20° dibawah suhu lingkungan) sampai +70 °C
Pengaturan akurasi suhu
0.1 °C
Sensor suhu
2 Pt100 sensors DIN Class A in 4-wire-circuit for mutual monitoring, taking over functions in case of an error
Humidity / Kelembaban
Pengaturan rentang kelembaban
10 – 90% rh
Kelembaban
Penyuplai kelembaban dengan air suling dari tangki eksternal dengan pompa self-priming
Humidifikasi
Humidifikasi dengan generator uap panas
Dehumidifikasi
dehumidifikasi dengan perangkap dingin menggunakan teknologi Peltier
Pengaturan akurasi kelembaban
0.5 % rh
Peralatan standar
Sertifikat kalibrasi standar kerja
(+)25°C / 60% rh, +40°C / 75% rh
Pintu
pintu stainless steel terisolasi penuh dengan penguncian 2 titik (kunci pintu kompresi)
Internals
2 stainless steel grid(s), electropolished
Standard accessories
Tangki air termasuk selang sambungan (110-750: 2,5 liter, 1060-2200: 10 liter)
Pintu

inner glass door ; pintu baja tahan karat yang sepenuhnya terisolasi dengan penguncian 2 titik (kunci pintu kompresi)

Stainless steel interior
Dimensions
w(A) x h(B) x d(C): 1040 x 1200 x 850 mm (d less 32 mm for fan – Peltier)
Volume
1060 L
Max. number of internals
14
Max. loading of chamber
200 kg
Max. loading per internal
20 kg
Textured stainless steel casing
Dimensions
w(D) x h(E) x d(F): 1224 x 1720 x 1005 mm (d +56mm door handle & +111mm Peltier element)
Housing
rear zinc-plated steel
Installation
on lockable castors
Electrical data
Voltage Electrical load
230 V, 50/60 Hz
approx. 1400 W
Voltage Electrical load
115 V, 50/60 Hz
approx. 1400 W
Ambient conditions
Set Up

Jarak antara dinding dan bagian belakang peralatan minimal harus 15 cm. Jarak bebas dari langit-langit tidak boleh kurang dari 20 cm dan jarak bebas samping dari dinding atau peralatan di dekatnya tidak boleh kurang dari 5 cm.

Ambient temperature
16 ºC to 40 ºC
Humidity rh
max. 70 %, non-condensing
Altitude of installation
max. 2,000 m above sea level
Overvoltage category
II
Pollution degree
2
Packing / shipping data
Transport information
Peralatan harus diangkut tegak lurus
Customs tariff number
8419 8998
Country of origin
Federal Republic of Germany
WEEE-Reg.-No.
DE 66812464
Dimensions approx incl. carton
w x h x d: 1330 x 1970 x 1300 mm
Net weight
approx. 251 kg
Gross weight carton
approx. 331 kg
Dapatkan info lengkap produk dan penawaran resminya dengan menghubungi kami melalui Kontak Kami. Dapatkan pula berbagai referensi alat uji kestabilan produk di Climate Chambers, Kami juga menyediakan berbagai produk alat ukur dan uji lainnya sesuai dengan kebutuhan Anda.