Pengukur Kekerasan Besi Baja Logam Portable – NOVOTEST TUD3 , Hardness Tester yang otomatis menghitung kekerasan untuk berbagai bahan, seperti baja, stainless steel, besi cor, perunggu, aluminium.  Novotest ini merupakan yang paling universal, tidak memerlukan kalibrasi ulang.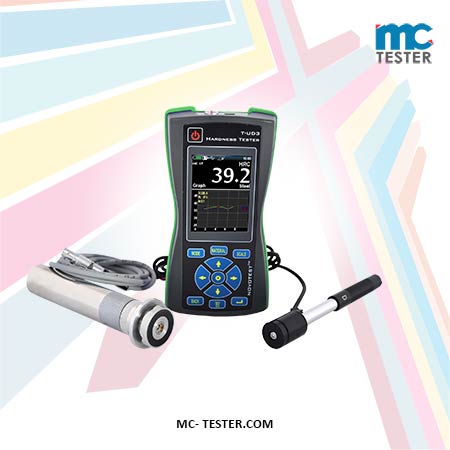 Ketika pengukuran dilakukan, operator dapat mengambil foto dari sampel dengan kamera foto built-in dan menempatkan hasil persis di mana pengukuran terjadi (hingga 5 hasil per gambar). pengukuran hasil dan gambar yang disimpan dapat ditransfer ke PC menggunakan Software "ARM" , yang disediakan bersama dengan tester kekerasan.
pengukuran dapat juga mengukur kekerasan pada temperatur yang sangat rendah. Pada kenyataannya, tes telah dilakukan pada – 25 ° C. Tidak ada masalah untuk mengoperasikan perangkat sama sekali. akurasi pengukuran tidak melebihi standar akurasi. Kami tidak menemukan perbedaan menggunakan perangkat di lingkungan yang hangat dan dingin!.
Alat Kekerasan Portable Hardness Tester NOVOTEST TUD3 adalah CE bersertifikat.
Fitur Pengukur Kekerasan Besi Baja Logam Portable – NOVOTEST TUD3:
Indentor kecil jejak (setelan untuk permukaan cermin dari poros leher, pisau, gigi gigi, dll)
Mengukur permukaan Lapisan yang mengeras
Brbagai pengujian kekerasan
Berbagai modus pengukuran
88 kombinasi bahan dan skala kekerasan (kalibrasi)
Kalibrasi skala apapun dalam jangkauan setiap
Kenyamanan dan kemudahan pengukuran
Jumlah dioptimalkan tombol
tampilan grafis penuh warna besar dengan backlight terang
Built-in kamera foto untuk laporan menyeluruh
Otomatis pengakuan jenis probe
Koneksi indikasi jenis probe
Kalibrasi disimpan dalam memori penyelidikan UCI
Diperpanjang rentang suhu operasi (es, ke – 40 ° C)
memori internal dan komunikasi dengan PC
Menu baru intuitif dengan tips pada tombol
Opsional nirkabel printer mini
perumahan waterproofed
perumahan karet bumper dilindungi
jam internal
nilai kekerasan mengukur untuk setiap produk massal dengan lebih dari 1 mm ketebalan (bagian-bagian kecil,berdinding tipis struktur, pipa, tangki, baja lembaran, artikel bentuk kompleks, pengujian kekerasan pelapis logam, dll)
mode operasi yang berbeda:

Grafik – modus bangunan grafik
Histogram – modus bangunan histogram
Statistik – menyediakan statistik untuk set saat pengukuran
Pintar – menyaring pengukuran yang salah
Sinyal – menampilkan sinyal Probe (hanya untuk probe Leeb)
Spesifikasi Tester Kekerasan Novotest :
UCI probe types
1kgf (10N) 2.2 lbf, 5kgf (50N) 11lbf, 10kgf (98N) 22lbf
Leeb probe types
D, DC, DL, C, D+15, E, G
Measuring range
HV:230~940; HRC:20~70; HB:90~650. Tensile strength, MPa 370~1740
Measuring accuracy
HV:±3%HV; HRC:±1.5%HRC; HB:±3%HB
Indenter
Diamond indenter (UCI), Hardened ball (Leeb)
Measuring direction
Any direction 360°
Data storage
Limited only by the memory card
Communication
Upload data to PC and export as a spreadsheet (USB cable and software included )
Hardness scale
HRC, HB, HV, HRB, HS, HL, MPa
Materials

Ultrasonic (UCI) probe – pre-calibrated for steel.
Dynamic (Leeb) pre-calibrated for steel, alloy steel, cast iron, stainless steel, aluminum, bronze, brass, copper.
Additional custom materials for calibration.

Data display
Load applied/contact (UCI), Angle (Leeb), Single test result, Max, Min, Average of tests, Number of tests, Deviation, Var. coeff, Histogram, Signal and Smart Mode (Filter of incorrect measurements).
Indication
Color LCD display (320×240)
Operating environment
Temperature:-20°C~40°C; Humidity: 30%~80%R.H.
Power supply
DC 4,5V (3 pcs batteries AA)
Instrument dimensions
160x75x30mm
Net weight
Approx. 0.3kg (without probe)
Battery life
Approx. 10 hours.
Butuh Pengukur Kekerasan Besi Baja Logam Portable – NOVOTEST TUD3 ini ? silahkan hubungi kami atau lihat produk kami lainnya di HARDNESS TESTER