Alat Penguji Kadar Air Beras, Jagung, Cengkeh, Kacang, kopi, kakao dll JV002s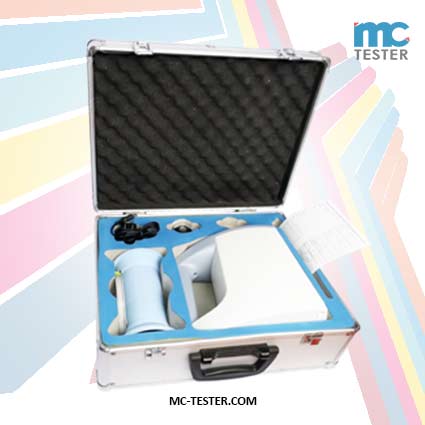 Spesifikasi Alat Penguji Kadar Air Bijian Serbaguna :
ALAT Uji kadar air untuk bijian
Layar LCD
Otomatis Menunjukan Berat Sampel dan Suhu
Masih mencari Alat Penguji Kadar Air bijian yang terakurat ? termurah ? paling praktis ? dan paling utama ada fitur kalibrasi dan fungsi error correction ?
Grain Moisture Meter  JV002S
Kami perkenalkan produk baru di tahun 2012 ini ke anda, produk satu-satunya yang pertama kali diperkenalkan dan hanya didistribusikan oleh Digital Meter Indonesia dan CV. Java Multi Mandiri yaitu Grain Moisture Meter JV-002S Series.
Kelebihan alat ini adalah bisa menentukan kadar air pada bijian mulai dari range yang terendah sampai dengan range tertinggi yang bisa diukur maksimum pada bijian yaitu dari 3-35%. Produk ini adalah Alat Pengukur kadar air bijian yang sangat canggih sehingga tidak cukup hanya mendeteksi 1 macam bijian, tetapi bisa sampai dengan 20 macam bijian bahkan lebih! Karena fitur canggih volume & conversation display telah disematkan juga kedalam produk ini.
Masih mencari alat pengukur kadar air bijian yang jauh lebih canggih? masih mencari Kett Moisture Tester PM-410? GMK-303 series ? Aqua Boy ? atau Digimost ?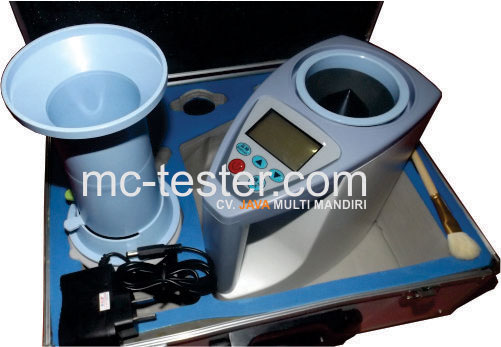 Alat Pengukur Kadar Air Biji Bijian JV002S
Mari kita bandingkan dengan salah satu produk diatas
Contoh diatas produk JV-002S akan dibandingkan dengan produk PM-410 yang harganya mencapai 2x lipat dari harga JV-002S.
PM-410 mempunyai measurement range hanya dari 6-40% sedangkan JV-002S mempunyai measurement range mulai dari 3-35%. Untuk sample weight dari PM-410 20-180g sedangkan dari JV-002S 20-200g.
Untuk fitur Calibrations PM410 dan JV-002S mempunyai fitur yang sama yaitu MultiPoint calibration dan fitur Error Correction. Dan sama-sama mempunyai fungsi moisture dalam bentuk persentase, pengukuran weight (g) berat, temperatur compensation dan bias adjustment yang sama-sama diusung oleh kedua produk ini.
Alat Uji Kadar Air Bijian Digital JV002S ( Model Teko )
Untuk layar Display masing-masing juga menggunakan LCD. Dan untuk akurasi, PM-410 meneybutkan bahwa tingkat akurasi mereka +/- 0.5%, sedangkan produk JV-002S mengklaim tingkat akurasi kurang dari +/- 0.5% dengan repetitive error kurang dari +/- 0.2%.
Untuk sumber power (kelistrikan / sumber daya) pada masing-masing produk. Grain Moisture Meter PM-410 hanya mempunyai dari sumber power Baterai 4xAA, sedangkan untuk Grain Moisture Meter / Alat Pengukur Kadar Air bijian JV-002S mempunyai dua power source yaitu 5baterai ukuran AA, dan juga power source AC / DC. Sehingga bisa menghemat pemakaian baterai apabila hanya digunakan di suatu lokasi tertentu. Penggunaan baterai hanya dimaksudkan apabila pengukuran tidak bisa dilakukan di suatu tempat, tetapi harus dibawa (portabel) sehingga fungsi pemakaian baterai bisa digunakan untuk tidak menghalangi pengukuran kadar air pada bijian tersebut. Jauh lebih praktis!
Ada berbagai banyak fitur dan kecanggihan yang disematkan pada produk Grain Moisture Tester / Alat Pengukur Kadar Air bijian JV-002S ini. Sehingga apabila anda mau membeli produk serupa, harus berpikir ulang seribu kali untuk membelinya dan beralih langsung ke produk Grain Moisture Meter JV-002S ini.
Secara sederhana akan dijelaskan pada spesifikasi produk dibawah ini, anda pun bisa mendownload manual book sederhana dari JV-002S sehingga anda bisa mengerti betapa praktis dan canggih pemakaian produk Grain Moisture Tester JV-002S dibandingkan dengan produk sejenis.
Beberapa Komoditi bijian yang dapat di ukur

Grain Moisture meter for Japonica Paddy (P1); Bean (P2); Wheat (P3); Rapeseed (P4); Maize (P5); Barely (P6); Long grained Nonglutinous Paddy (P7); Rice (P8); Bean Residue (P9); Peanut (P10); Rapeseed Residue (P11); Granule Feedstaff (P12), Sunflower Seed (P13); Watermelon Seed (big) (P14); Watermelon Seed (small) (P15); Radish Seed (P16); Black Sesame (P17); Yellow Sesame (P18); Cotton Seed (P19); Cotton Residue (P20).
LCD display
Automatic weighing, temperature compensation
Fitur Grain Moisture Meter JV-002S :
Quick, accurate, convenient
AC/DC power supply compatible
High-brightness backlight LCD, clear and energy-saving
Multi point calibration, error correction
Low power consumption, automatic shutdown
Automatic weighing and temperature compensation
Volume-weight conversation display
Measuring objectives: foodstuff, and other non-metal granular sample, such as rice grain, wheat, corn, soybean and rape seed etc.
Spesifikasi Grain Moisture Meter JV-002S Multipoint Calibration :
Kesalahan Pengukuran: less than +/- 0.5%
Kesalahan Pengukuran selanjutnya: Kurang Lebih 0.2%
Range Pengukuran:3-35%
Waktu Pengukuran : Kurang Lebih 10 Detik
Suhu Pengukuran: 0-40C
Sumber Tenaga:4 #alkaline Baterai atau Addaptor 9V DC.
Display model: high-brightness backlight LCD
Berat: 700g
Packaging Detail: Each piece packed in aluminium alloy box and 2pc/ctn
Alat Penguji Kadar Air Beras, Jagung, Cengkeh, Kacang, kopi, kakao dll JV002s