Alat Pengukur Suhu Infrared Thermometer AMF009. Infrared digital thermometer Ini adalah Termometer InfraRed dengan presisi yang bagus didesain untuk pengukuran temperatur pada suatu objek secara cepat dan akurat mulai dari  -50~550°C or -58~1022°F dengan penunjuk Laser. Dengan alat ini kita dapat mengukur temperatur suatu objek atau permukaan panas, It safely measure the surface temperature of hot,membahayakan, reflektif, mengkilap, dan sulit dijangkau dengan mudah dan aman.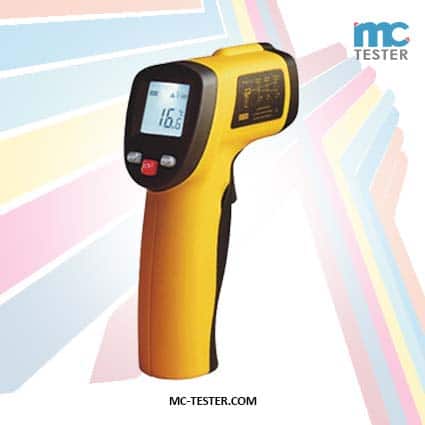 Jarak titik ukuran 12:1 , respon spektrum 8-14µm dan emisivitas standar 0.95 melengkapi fitur utama alat ini.
Efektifitas pengukuran, memantau dan menampilkan temperatur. Penunjuk laser yang terintegrasi dan lampu latar dapat di atur ke mode  on & off. Dengan bantuan Termometer InfraRed ini, anda dapat mengetahui temperatur dengan benar. Alat profesional ini berbentuk pistol. Lampu latar memungkinkan anda untuk membaca temperatur dalam gelap. Alat ini sangat mudah digunakan, cukup arahkan ke titik yang ingin anda ukur, tarik pemicunya dan dapatkan pembacaan langsung. Bandingkan pembacaan ini ke area netral dan Anda akan tahu apa yang terjadi. Dengan desain yang bagus, Termometer InfraRed genggam ini nyaman untuk dipegang.
 Infrared thermometer
Fitur Utama Alat Pengukur Suhu Infrared Thermometer AMF009:
Kemampuan optimal dengankenyamanan maksimal
Rentang temperatur luas: -50~550°C or -58~1022°F
Tingkat akurasi tinggi dari ±1.5% or ±1.5°C
Jarak titik rasio 12:1
Bisa pilih °C/°F
Auto Data Hold
Bebas pilih Laser Penunjuk sasaran ON/OFF
Bebas pilih Backlight ON/OFF
Auto Power Off jika tidak digunakan dalam 7 detik
Layar LCD besar dengan temperatur realtime dan instan yang mudah dibaca
Respon cepat dan tingkat akurasi tinggi
Bentuk genggeman tangan yang ergonomis
Dengan label CE, memenuhi standar keamanan alt Eropa.
Spesifikasi Infrared Digital Thermometer AMF009:
Temperature range: -50~550°C or -58~1022°F
Accuracy: ±1.5% or ±1.5°C
Repeatability: 1% of reading or 1°C
Distance Spot Ratio: 12:1
Emissivity: 0.95 preset
Laser Power: Resolution: 0.1°C/°F
Response Time: 500ms
Wavelength: 8-14µm
Power Supply: 9V battery (included)
Dimension: 153*101*43mm (5.9*3.39*1.67in)
Akesoris Bawaan :
Alat Pengukur Suhu Infrared Thermometer AMF009