Alat Pengukur Tinggi Kabel | Cable Height Meter Ultrasonic
This section contains some shortcodes that requries the Jannah Extinsions Plugin. Install it from the Theme Menu > Install Plugins.
Alat pengukur tinggi kabel dan kedalaman kabel seri AR600E ini dilengkapi dengan Horizontal Adapter sehingga dapat digunakan juga untuk [highlight]pengukuran kedalaman kabel[/highlight], Alat ukur ini memancarkan suara yang berasal dari pemancar yang berbentuk kerucut. Mikroprosesor di dalam alat mengalkulasi waktu yang berlalu dari suara yang dipancarkan ke kabel untuk di pantulkan kembali ke alat. Hasilnya dapat di tampilkan dalam satuan feet atau inch dan meter untuk mengukur kedalaman atau ketinggian kabel.
Biasanya digunakan di:
Listrik, Kehutanan, Industri, Pertambangan, kabel Overhead, Cabang pohon, poros lift, Depth of Wells.
Deskripsi Cable Height Meter:
Ukuran: 75 * 72 * 200mm
Berat: 205g
Power: 9v, Baterai Alkaline
Warna: Yellow
Spesifikasi Alat Pengukur Tinggi Kabel AR600E :
Kabel Diameter: 25mm; 12mm; 5.5mm; 2.5mm
Jarak (Tinggi): 10-75 ft / 3-23m; 10-50 ft / 3-15m; 10-39 ft / 3-12m; 10-32ft. / 3-10 m
Resolusi: 5 mm <10 meter; 10mm> 10 meter
Akurasi: 0,5% ± 2 digit
Jumlah Maksimum Kabel: P enam kabel
Horizontal Jarak Pengukuran: 3-18m Dengan Adapter Horizontal tersedia
Individu Kabel Tinggi Pengukuran: Ya -Bottom ke atas, atau atas ke bawah
Gap antara Minimum Kabel: 15cm
Paket Alat Pengukur Tinggi Kabel AR600E :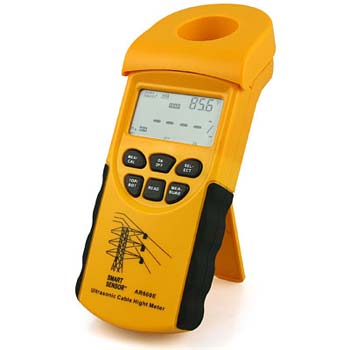 1 x Ultrasonic Kabel meter
1 x Inggris Instruction Manual
1 x Bracket Aksesori (Horizontal Distance Measurement Saja)
1 x Pouch Hitam
1 x Carry Case
1 x Horizontal Adapter
Berminat dengan alat pengukur tinggi kabel dan kedalaman kabel ini silahkan hubungi kami atau lihat di CABLE TESTER
Untuk pemesanan dan informasi lengkap produk Alat Pengukur Tinggi Kabel | Cable Height Meter Ultrasonic, silahkan hubungi kami melalui :